Presentation Skills Courses for the Insurance Industry
by Deborah Hall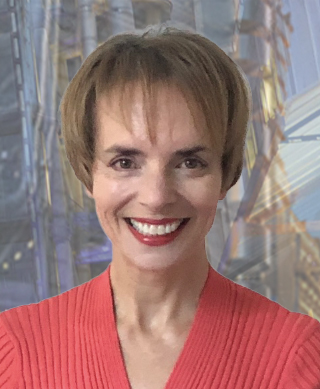 Deborah Hall
Deborah has been a professional presenter for 35 years. She was trained by BBC TV as a journalist and read the local and national news on BBC1, and was a news anchor on BBC World - 12 years in total. She now presents webcasts for businesses and is the Presentation Skills trainer for a number of law firms, insurance brokers and underwriters. In addition she is a highly experienced Conference Chair and personal coach.
Deborah's sessions are highly interactive and they will inspire, entertain and inform you.
Presenting is a major part of our business lives, whether negotiating one to one, contributing to a meeting or giving a formal presentation to 250 people. What makes the difference is the skills we employ to make an impact.
We offer a range of courses, delivered both in person and virtually, which will enhance your skills as a communicator and give you more confidence when engaging with colleagues and clients. Deborah Hall draws on her experience as a TV presenter and coach to help you to prepare more effective messages and make an impact on your audience.
Whether you're a graduate trainee or CEO, Deborah will show you how professional presenters capture the audience's attention through body language and tone, and ensure you light up a room. She also uses her journalistic skills to work with you to help make your content truly memorable and we can guarantee there will be new insights for everyone, even for the most experienced presenter.
Examples of Courses Delivered Live / Virtually
Creating Personal Impact Online (a masterclass in 90 minutes)
Whether using Teams or Zoom, we're all having to engage with a webcam in order to communicate with colleagues and clients. This looks set to continue with the new, hybrid way of working. So how do TV presenters make talking to camera appear so effortless? In this masterclass, former BBC World anchor Deborah Hall shares the tricks of the trade to ensure you come across with your desired combination of authority and personal engagement. You'll see how a few small changes will make a surprisingly big difference in how you come across on camera.
Enhancing Your Impact Online (a masterclass in 90 minutes)
Having mastered how you come across online in the above course, in this session we turn to your all-important content. Deborah shares tips from journalists to ensure that what you deliver is equally engaging and memorable.
Examples of Courses Delivered In Person
Presenting Yourself, Representing Your Company (one day)
Throughout the business day, the way you present yourself creates an impression both of you and your company. This course will ensure you reflect a positive and professional image through your appearance, body language, the words you choose for maximum impact and the way you deliver them. As a result you will enhance the way you come across in meetings, client interactions, interviews and presentations all of which will give you a professional and competitive "edge".
Presentation Skills for Professionals (one day)
This course is designed for more experienced speakers who wish to have more impact in delivering presentations – for example, formal reports to Board meetings or lectures at conferences. Discover how broadcasters use words to build memorable presentations, together with elements of psychology and theatre to ensure a stylish delivery that feels right for you. Feedback is personally tailored and is thorough, constructive and confidence building.
Enhanced Communication Skills for the Successful Business Woman (one day)
How can talented women make a more positive impression, be more convincing at interview and get their voices heard when they're on the Board? As a BBC broadcaster and presenter Deborah can show women how journalists use words in an inspirational and compelling way, and how women can be more authoritative in their body language, while using their natural warmth to further their influence. This course is content rich and is aimed at high achieving women who want quick and effective tips and techniques that they can use immediately to make an impact.
Media Training
Senior Executives may wish to promote themselves as thought leaders and influencers within the industry. Deborah's background and experience will provide useful insights and techniques to deal effectively with the media, avoiding the various pitfalls, in order to maximise the opportunity this presents.
For more information contact Tony Gregory: tony.gregory@imc-seminars.com
To visit Deborah's website, please click here.